Development game What Would You Do?
WHAT WOULD YOU DO?
Innovative gamified development tool for managers
How to take criticism? What to do if the boss is too demanding? How to react if an employee does not deliver? What course of action to take if someone violates procedures? Every employee and every manager must face such dilemmas daily. Companies organize training courses on this, but a discussion in a small group of 4 to 8 people may turn out to be much more effective, when everyone voice their opinion and can relate to the opinions of the others. And once they have reached a conclusion, they will apply it in practice because it will be THEIR conclusion. This is WWYD at work, an innovative development tool designed as an attractive board game. It becomes quickly apparent, though, that it is not about playing but about enabling the group/team to discuss together typical problems that arise while managing people in the workplace. The most important is that this happens in a way involving all participants, totally different from classical workshops or courses offered by training companies. The players constantly face new challenges and learn from each other by observing reactions, listening and jointly reaching solutions; at the same time, the game allows a lot of flexibility in the choice of topics, which can be fully adapted to the current needs of the given work environment.
Flexibility is not just in the topics, but also in time allocation. The game comprises 200 scenarios based on real-life situations, some simple, some more complex. During one session a single scenario can be used – for example during a break, or in reaction to something that happened recently in the company. The time spent on one scenario could be just 15 minutes, a more complex session can take a couple of hours or even more. There also is flexibility in the number of participants: while a minimum of 4 is suggested, there can be up to 8 individual players. The game can also be played in pairs, allowing up to 16 at a time. One can also consider playing in teams, when up to 8 teams participate.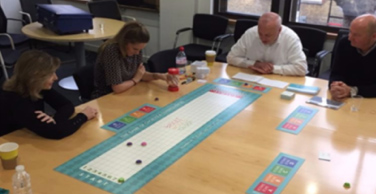 A session is co-ordinated by a trained facilitator; it could be an external consultant, but we recommend that it be an internal trainer. Owing to the attractive design the whole exercise can be a lot of fun, which encourages participants to openly express their views and exchanging opinions with their colleagues, without the constraints of a traditional training. However, the core content always focuses on one realistic situation typical for the workplace. Every scenario ends with conclusions, it is the task of the co-ordinator to make sure they are properly formulated and understood by the participants conformingly to the values, regulations and good practices of the given company.
The scenarios cover the following areas:
Communication – What does good communication look like?
Teams – Ensuring that teams work well together
Leadership – Stepping up to lead as well as manage
Managing self – Taking ownership of your own work
Managing conflict – How to defuse tension and resolve conflict
Managing others – Managing people to deliver results
Managing performance – How to address performance issues
Exercising influence – Ensuring that you can influence up and down
At present the game is only available in English. We intend to create a Polish version in the future.
By purchasing a set the customer gets:
a customized suitcase with a board, tokens, a set of 200 cards/scenarios, voting accessories and a guidebook for the facilitator
full rights to use the game without limitations of time or number of users
on demand – training of 1-2 facilitators from the purchasing company (included in the base price)
This means the on purchase the customer becomes the sole owner of the game and can use it independently for the company's needs, which dramatically impacts the cost effectiveness of the investment.
There is also an option to conduct sessions facilitated by us – in such a case, separate fees apply.
We are happy to provide additional information; we can also organize a free in-company demo session, involving selected 4-8 employees.
Contact us:
Stanisław Wojnicki
email:

This email address is being protected from spambots. You need JavaScript enabled to view it.


tel. 602 25 84 84